"Praça do Comércio", also known as "Terreiro do Paço", situated in the city center, by the "Tejo" river, is one of the most important squares in Lisbon and were major events take place.
The square itself is in the area where for nearly two centuries were the palace of the kings of Portugal and is one of the largest squares in Europe, with about 36,000 m².
In 1511, "Rei Manuel I" moved his residence from the "Castelo de São Jorge" to this location by the river.
The "Paço da Ribeira", as well as its library of 70,000 volumes, was destroyed by the earthquake of 1755. In the reconstruction, the square became the key element of the plan of the "Marquês de Pombal".
After the Revolution of 1910 the buildings were painted in the color pink. However, recently returned to its original color, yellow. This was always the noble entry of Lisbon and in the marble steps of the "Cais das Colunas" from the river, landed heads of state and other prominent figures. Nowadays, it is still possible to experience this amazing entry into Lisbon on ferries that connect the city with Cacilhas.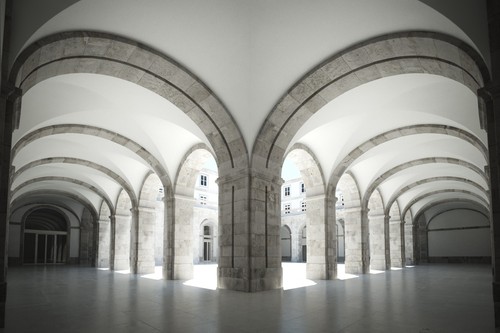 For a long time the square was nearly forgotten as a Cultural and Historical landmark. The buildings, with arcades surrounding the square, were home, in a few cases still are, to some departments of various ministries of the Portuguese Government and the center of the square was used a parking lot. Only the famous cafe "Martinho da Arcada", the oldest in Lisbon, and a favorite of Fernando Pessoa, resisted.
But now after a complete renovation that took place in 2010, just in time to host a mass celebrated by His Holiness Pope Benedict XVI, for 80.000 pilgrims, a new "hot spot" emerged in Lisbon.
The Pateo da Galé, with the signature of the architect Tiago Silva Dias, is a project which sought to combine modernity with tradition, while maintaining the flavor of this ancient place of great historical significance, intended to be a space where you can experience the very best in Portugal: gastronomy, art and culture.
This brand new space contains several surprises that make the "Pateo da Galé" a trendy place and at the same time, historical. In the restaurant area there are two spaces where visitors can savor the delights of the Portuguese cuisine: the "Terreiro do Paço" and Aura, who works as a restaurant and lounge.
A shop can also be found, where it's possible to buy typical Portuguese items such as jams, soaps, wines, olive oil or crafts.
To host large events there is an ample room called "Risco", a space reserved for exhibitions. Finally, the Tourist Office and the headquarters of the Turismo de Lisboa.
Need any more reasons to visit one of Lisbon's most important landmarks? I don't think so.